Cebu City's chicest girl
tagged me! Super had fun answering this, very Gradeschool slumbook..=)
ANG AKING MGA PABORITONG BAGAY, BOW!!
(My favorite things, bow!)
1. COLOR
- BLACK!!Black is a no-brainer and almost every cut looks flattering in this color, IMO.
2. DESSERT
- Recently - Frozen Yogurt (I'm addicted to this), forever - Sansrival (yes, even the 15 peso ($0.30) Burger Machine version makes my day!)
Favorite color and dessert!
(Top & Jeans: Topshop; Shoes: Renegade Folk
;
Bangle: Rockwell Bazaar; Bag; LV)
3. SMELL
- anything that will make me smell like "
sabong panlaba
(laundry detergent) + fabric softener". Currently alternating these 3: Clean Fresh Laundry, Acca Kappa and Leyende Beach bomb.
4. FLOWER
- Stargazers, the bigger the better.
5. ANIMAL
- My doggy, of course!
6. MONTH
- November. My birthday and the showing of New Moon!!! Double YEY!
7. BEVERAGE
- Unhealthily addicted to Coke Zero. For alcoholic beverage -- Tequila Rose forever and ever and Grand Matador! Yes, the super cheap rhum (less than $2 for a big bottle) brings back fun memories of my younger years!!=)
8. SHOES
- like Eden, I have a huge crush on the YSL cage shoes but I want the version Jane is wearing.
9. SNACKS
- Anything sweet like pastillas, yema, ensaymada.. And tortillos (the red one) with salsa dip!
10. SONGS
- Mariah Carey and Beatles songs.
11. BOOK
- Twilight series! Shanghai Baby and Nakpil Orosa Malate
(thanks to my friend Maneesh)


12. FRUIT
- Banana and Peaches. Lately, I've been eating lychee from our free breakfast in the hospital yummy!
13. HAIRSTYLE
- not too adventurous with hairstyles because my hair is stubborn at times haha..
14. PIECE/S OF CLOTHING
-
my thrifted $1 Balmainesque blazer
, crazy printed Patricia Field scarf, drop crotch pants, tanks for layering.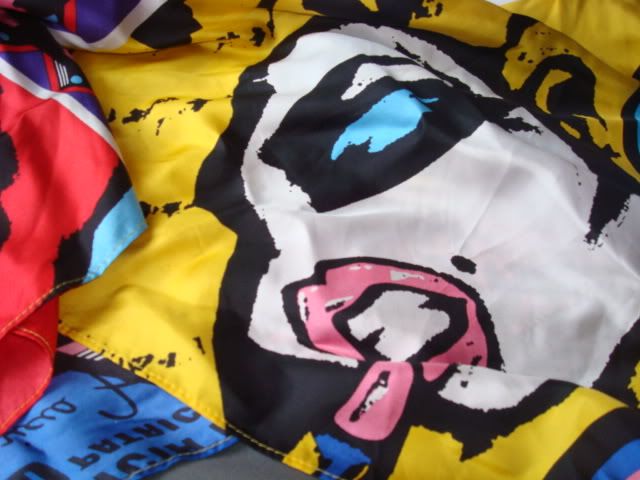 15. STORES TO SHOP
- Topshop, Folded and Hung, Plains and Prints, SM dept store, Landmark, Ramp at Crossings, Janilyn, Forever 21 and thrift stores!
16. SEASON
- not a season but I LOVE the cold weather (COLD but not rainy ha). Perfect for layering! SF weather is perfect for me.
17. HOBBIES
- blogging, window shopping, practicing putting on make-up (I'm also a frustrated make-up artist), crafts and DIY and studying (haha only if I have new set of highlighters and colored pens!).
Last but not the least - CARDGAMES!!! Esp Pusoy and Tong-its! It's not even a hobby, it's an addiction already!
2 years ago was the peak of our gambling days. My friend was able to buy a dog worth P22,000 pesos ($400+) with his winnings! I, on the other hand, could not bet that big so the biggest amount I won was P1,800 (less than $40). Not bad no?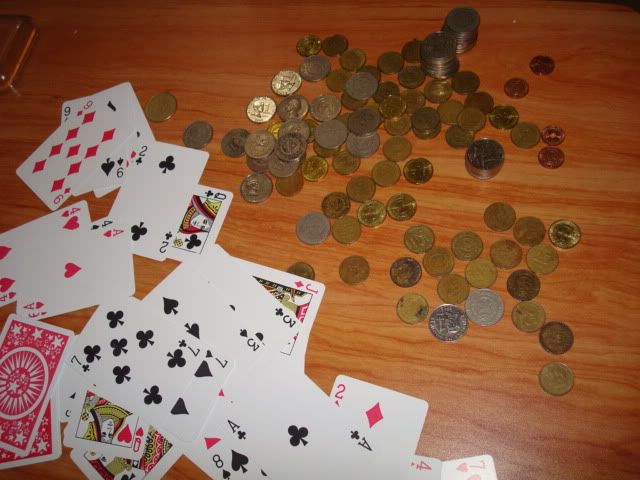 haha this was the day when my friends decided to gamble with 25 centavo coins! So annoying!
Med school is super stressful, we need to unwind sometimes.
Tsk tsk tsk excuses, excuses haha!
18. THINGS TO COLLECT
- Shoes, magazines, accessories, cute notebooks and random McDonald Happy meal toys (esp Hello Kitty happy meal toys).
some of my favorite HIGH heels
(Boutique 9; Janilyn; Renegade Folk; Janeo; Celine)

Magazines (Non-Vogue or Non-US Vogue are my loves)
(Some of my fave issues)
19. MOVIE
- Hav Plenty - Has anyone else seen this?
20. RESTAURANT
- Red Kimono for my favorite Japanese food, Cibo for Pasta, Banapple for almost everything!
************************************************************************************
Not part of the tag, I just want to show you what I looked like for the last 10 days! I was assigned at the H1N1 screening in our hospital and I sounded like a wind-up doll/broken record.

I ask this set of questions to every patient
"Nanggaling po ba sa ibang bansa? Me ubo, sipon, lagnat, masakit ang lalamunan? Pangalan, pirma ho."
"Have you been to another country? Do you have cough, colds, fever or sore throat? Please put your name and signature here"
I'm not kidding, we have an average of 160-200 patients a day, so you do the math.. Phhewww I'm glad I do not manifest a single symptom. Haaayyyy!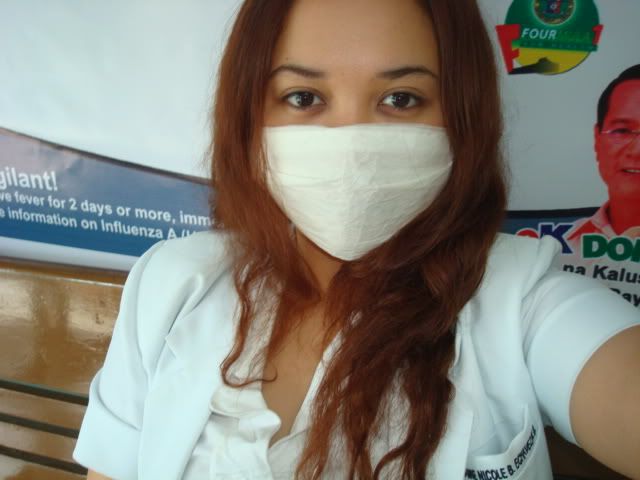 BTW, my second name is Nicole =)



I tag:


Rain of My lovestory
Denise of denisekatipunera
Hanna of littlemissdressup
Angelica of ModeJunkie
Marian of mariankihogo
Qin of qinatthedisco
Doc Khaz of beautifulthings
Allie of missmaterialist
Maggie of headoverheelz
Noelle of noellechantal
Monica of Frouflu
Kira of kirafashion
Janelle of thedarkhue
Kelly of mysocalledfabulous
Yves of urbanharlequin
Oskar of oskarsobsession
Dollface

Hope you enjoy answering the tag!=)
I sure did!


Hope I didn't bore you with the lengthy post..=P