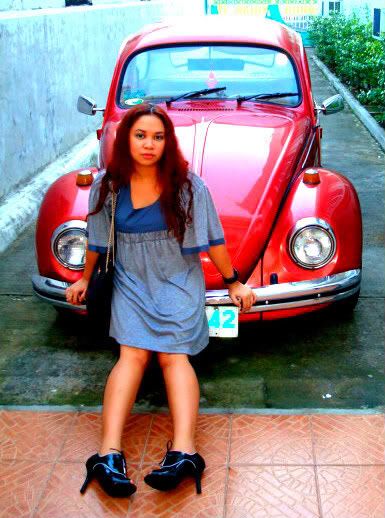 My friend Capella's cute beetle is guest starring in my photoshoot for today!=P
Isn't he the cutest? The shade of orange is amazing!
I edited the pics so that the orange shade of the car and the blue in my eyeliner would pop even more.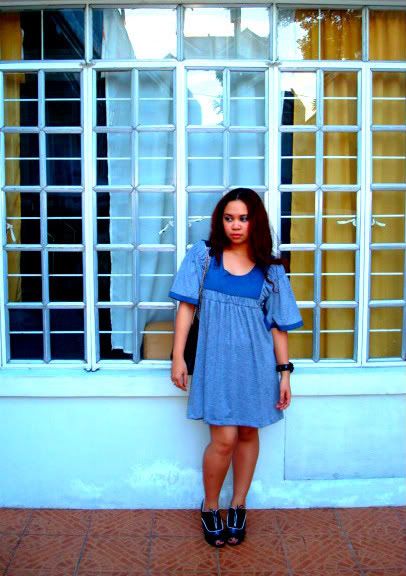 (Dress: Bayo; Green Ankle Booties: Janeo; Bag: Vintage Nina Ricci; Cuff: Rockwell Bazaar)


Infront of my friends' new apartment..
Remember the time I told you I'll be going to a housewarming party?
The BATWINGS!
This dress is from Bayo and I got it during one of their sale seasons for around 400 pesos ($8).
I am in love with the sleeves!

The shoes look kinda black in the other pics but it is actually dark green as in "table tennis green" If you are looking for a certain color, like table tennis green, or maybe a certain style, like my batwing sleeves, you can find it at
Red Tag with wholesale clothing.

Wholesale prices means you get more for your money and if you're like me who loves fabulous clothes and accessories but is always on a budget (I'm still kinda a student, you know), I'll give it a look.
Today my friend Maneesh and I went to the mall for dinner and a little shopping..=) He has been in a quite toxic rotation so he wanted a break..=) As for me, I'm still rotating in Community and Family Medicine and we have a lot of free time during this rotation but come August/September I'll be rotating in Internal Medicine

(where my friend is currently rotating)

and I will be a

WALKING ZOMBIE

when that time comes..=P