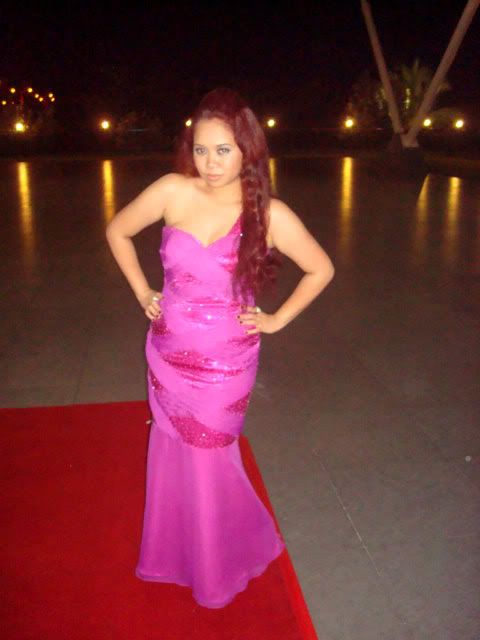 Please ignore the severe looking hair color!! I'll have it repaired in a few months haha..
Oh, whatevs it's just HURR..
This is the gown I was talking about in other posts.. I think it turned out nice.. You know where I got the inspiration right? I almost panicked because I went to the seamstress last Friday and the gown didn't have any beads or those criss cross things yet!! But good thing it was finished on time.. My gradball was Monday and I had the gown picked up at 2pm on the same day! Buzzer beater!!

Our graduation ball had an awards night/red carpet theme. They were giving out awards like future secretary of health, future doctor to the barrio, loveteam of the year, nottie to hottie among others.. And I won Fashionista award!!=)
After the program we wanted to go to Luneta (uhmmm, how do I describe it.. a national park? a park with Jose Rizal's statue? haha) and take pictures..

trip lang

! The 2 BFs don't approve of the idea but 3 camwhores vs 2 camera shy.. Majority wins! But there were no parking spaces nearby so we ended up in Manila Bay area.. Camwhoring is always fun!
After camwhoring in Manila Bay, my friend Maneesh wanted to drink again (because the open bar had diluted shots!).. So off we went to a diner in Makati Avenue in our gowns!! Drank and talked about our favorite childhood games. So fun! Went home at 530 am..