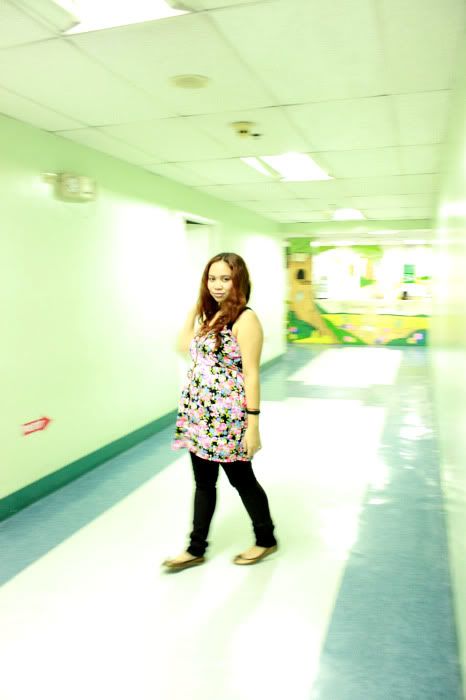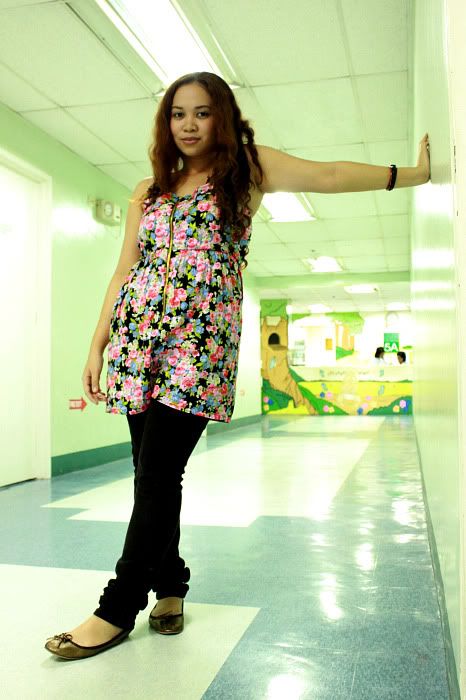 Removed my blazer for camwhoring purposes only.
=)
We're actually not allowed to roam around the premises without our uniform blazers.

And thanks Tzi for taking my pics!

We are allowed to wear civilian clothes over the uniform white blazers during our weekend duties. I don't usually wear floral pieces during duty as I feel it's informal and frilly (although we don't really have a dress code just No No's like: no plunging, no stilletos, no mini skirt, no see thru clothes. Usually, I wear blouse-y tops because I want to look respectable and older than my age because I feel like some patients don't take me seriously (only a very few though) but since it was my birthday, I wore a cheery dress over pants. I love the fact that it reminds me of old school, bordering on baduy (tacky) table cloth haha.

Birthday duty wasn't so bad. I treated my co-interns with pizza! (It's like the pambansang panlibre in our hospital hahah!!) When we woke up the next day, my co-interns and I were still bloated from the pizza and soda.
This is the dining area in our female lounge, it's kinda messy but it's been our 2nd home for 6 months now. We have a new TV in the lounge, we chipped in 50 pesos ($1) each for it but the antenna sucks. The only clear channels are Channel 7, QTV and Net 25 uggghhhh.. I'm not a TV person but please I CANNOT STAND GMA 7 SHOWS, seriously. DAISY SIETE JUICE KO DAY.

I really think GMA shows are so

andrewleavold.blogspot.com
This is just my opinion, please don't throw stones or in this case, bakya at me..=P