Ooops I forgot to tuck the long shirt inside my shorts haha
Forever 21 long shirt; Tomato lace skirt; Monica Fig platforms; Chanel earrings; Vintage Casio Watch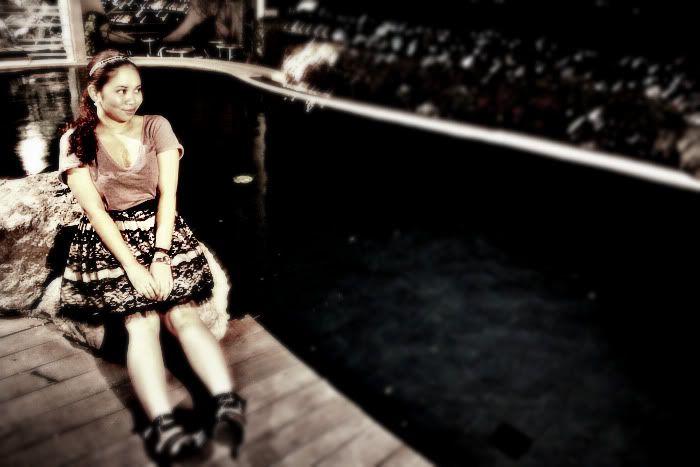 I like the design of this place a lot. Plus it's cold because it's located on the 31st floor rooftop.
And no, we didn't plan to match.. We laughed when we saw each other clad in gray tops.
Jacqui Babooshki!!
Last night I went out with my oldest girlfriends for dinner and cocktails. We have been friends since 6th grade and we saw each other in our "nene" (little girls)/awkward phase. My friend Jacqui is leaving for Singapore for work so we had a going away get together. So much fun, gossiping all night about Manny Pacquiao and her rumored girlfriend Krista Ranillo and other local showbiz gossip. It all started when she saw my shoes and I told her that I liked how it looked like it's bordering on hooker heels but still classy and then she blurted, "yeah like a baby prostitute!! "Si Krista Ranillo ka na!" hahahhaha.. We're all TEAM JINKEE by the way.

It was a fun night, we drank on the 31st floor of Vivere Suites and they had a promo: Unlimited cocktails for only 350 pesos ($7)! So we drank and camwhored like crazy! I like the place so much, I plan to hang out there more often..=P We planned to have a sleepover at my friend's house and have an early breakfast, but when we got home at 3Am we were so hungry that we already ate the supposedly breakfast. I slept for about an hour and drove to the hospital because I had a Biochem exam.

Our conversations went like this:

Me:

"Nasan na un si Suzette Ranillo?"

(Whatever happened to Suzette Ranillo- a local celebrity)
Raizza:

Aba malay ko di ko na nakikita sa TV!

(I don't know, haven't seen her on TV lately)
Me:

Hiwalay na sila ni Matt Ranillo no?

(They're divorced right?)
Raizza:

Gaga! Magkapatid sila!

(Silly! They're siblings!)
HAHAHAHA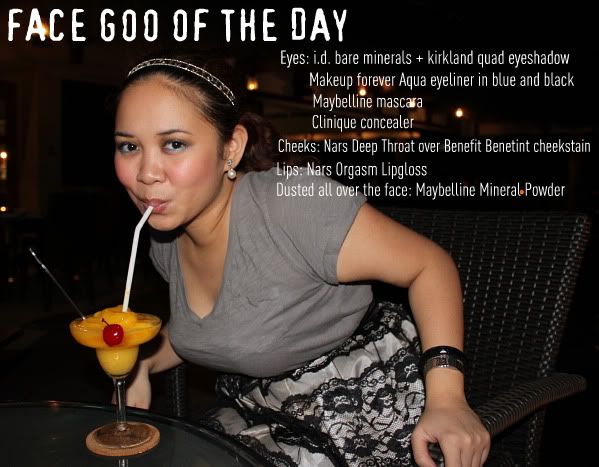 And oh, if anybody's interested I listed what I used for my make-up that day. I'm no expert but I like to try new tricks and looks..=)
I'M WATCHING NEW MOON LATER!!
AARRRRGGHHH EXCITED NA AKES!