Today is a happy day for us Filipinos. Manny Pacquiao made us proud again! Woot woot! I told you he's gonna box the hell out of Cotto, whom I kinda have a little crush on, BTW..=) He's kinda cute no? Watched the fight live at the cinemas then camwhored afterwards.=) The sister and I decided it's the perfect time to wear our "WHERE I'M FROM, EVERYONE'S A HERO SHIRT" I ordered a month ago.
LSS song for today: "PILIPINO, PILIPINO, PILIPINO ANG LAHI KO!!" Manny's song was played non-stop near the ticket booths.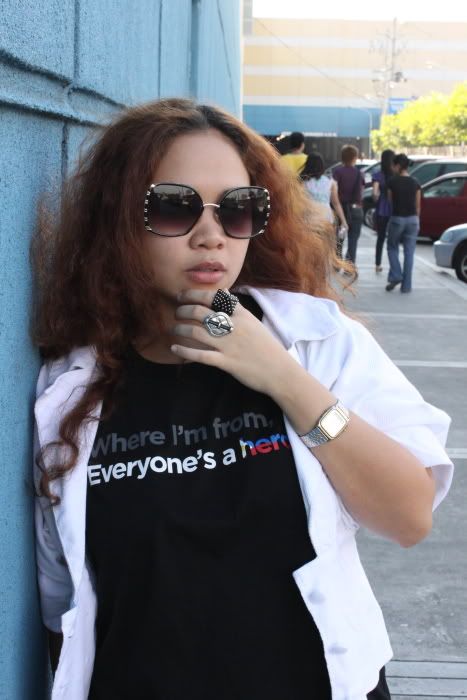 My normally dry hair decided to be extra dry today. Uugghhhhh.
Plus it was unusually windy today. weird.
Puffed sleeves jacket: Space; Shorts from a bazaar; Flats: Primadonna; Bag: LV;
Sunglasses: Topshop; Rings: SM department store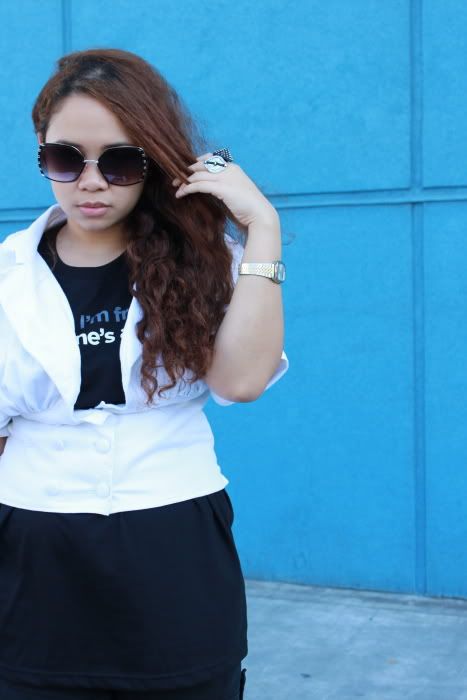 Same shirt but the sister and I did a different styling on the shirt. Being the nonT-shirt girl that I am, I paired it with my old super puffed jacket to glam it up a little. Sister wore it over a floral dress paired with her cute Cobra Starship bag.=)
Floral dress from a bazaar; Shoes from YRYS; Bag from Hot Topic;my sunglasses
My favorite Manny Pacquiao video. Listen carefully at 0:12.

Clito-what?!??!?
hahahaha
Check out What's in my bag JINKEE PACQUIAO version. I like that she opted for a Kelly instead of the easy choice Birkin. So happy for her that she's living the life. Some people are giving her flak for having nice things. But seriously if you have millions of DOLLARS (not pesos) wouldn't you buy these things too? She deserves it imagine having mini-heart attacks because your husband's life is always in danger every single fight. Plus, she stuck with Pacquiao even in his poor days..
Heck if I were Jinkee, I would wear Balmain to get groceries, Chanel haute couture to hear mass, Christian Lacroix to watch movies, Missoni caftans as "duster"/house clothes and hire Kate Lanphear and Liz Uy as my stylists.
She has 200,000 pesos ($4,000) cash inside her bag, antaray diba?! Since you moved up to Hermes, please give me na lang your old Chanel bags!!=P