Outfit first before my other blabbers.=P I like the odd silhouette of this dress, it's loose but is cinched on the leg area.
Actually reminds me of a garbage bag, a matte garbage bag. A chicer version, of course!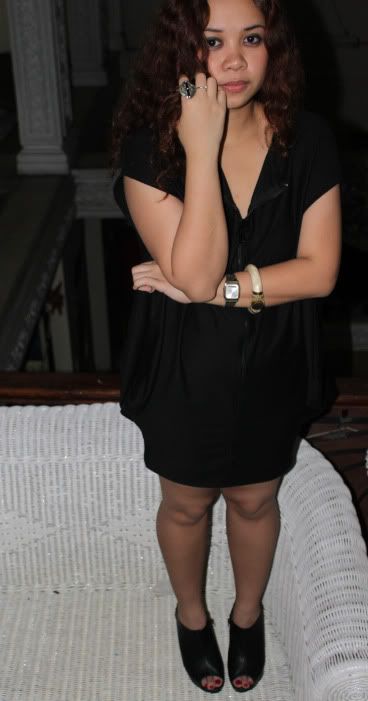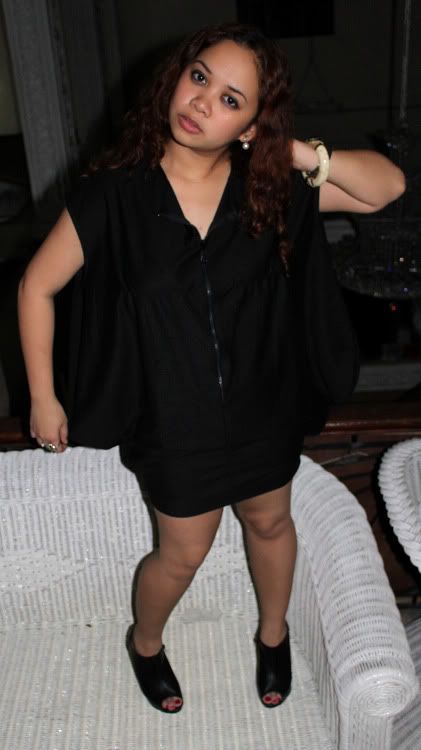 Trunkshow dress; Chanel earrings; Vintage Casio watch; Vintage bangle from a store in Serendra,
SM dept store booties; SM dept store ring
Birthday dinner with the boy last Saturday. I bet you are so sick of reading the word Birthday in my blog, no? I will be abusing the word throughout the whole month of November haha! Went to Greenbelt to look for my present from BF, I wanted this certain bib necklace but when we went to Firma they only got one and it's not what I wanted so I'll probably order it instead of buying it from the store. So we only looked around, since I don't really frequent this mall as much as I want to.


It's funny how my style has rubbed off on the boy. While looking at a wall full of men's sneakers, we reached out for the same blue sneakers. He turned to me and said, "OMG, I'm gay!" hahaha. Usually, we don't really agree on his sneaker and basketball shoe choices. He's all for simple and classic designs and I'm all for "statement! statement!".
Went to dinner at La Scala in Malate. I like this restaurant a lot because there are lots of eyecandy. The resto is owned by an avid collector of vintage everything. From old Coca-Cola memorabilias, old newspaper clippings, old records, old Starwars toys and other interesting stuff. Too bad there were no vintage Transformers, the boyfriend will surely go crazy if there were! Some random pics inside: Was about to take more (picture taking is allowed here) but this foreigner got paranoid and approached us, demanding us to delete her picture?!?! And we didn't even point at her direction! uuuggghhh so I ended up with only a few.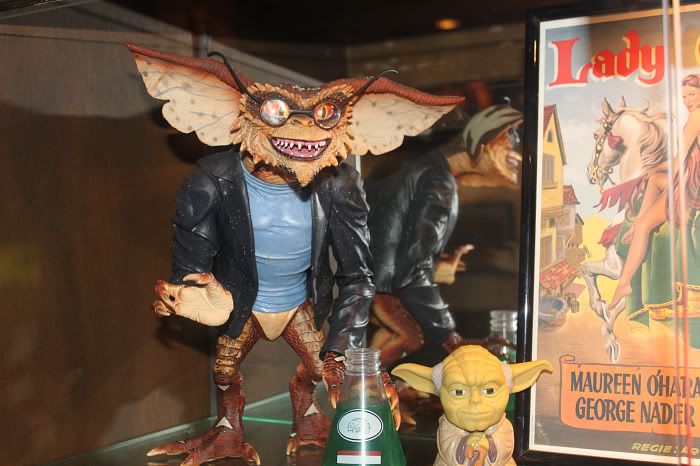 This is an interesting picture. I spy Elvis Presley, Marilyn Monroe, C3Po, James Dean, Charlie Chaplin, Batman, Frankenstein, Roger Rabbit, Julia Robert's and Richard Gere's characters in Pretty Woman and ET. I swear I kinda am familiar with the others but I don't know their names. Care to identify more?
Fun night, since the place isn't packed we got to stay longer and reminisced about highschool memories! I realized we have been friends since the time Nokia 5110 was considered THE COOLEST cellphone LOL!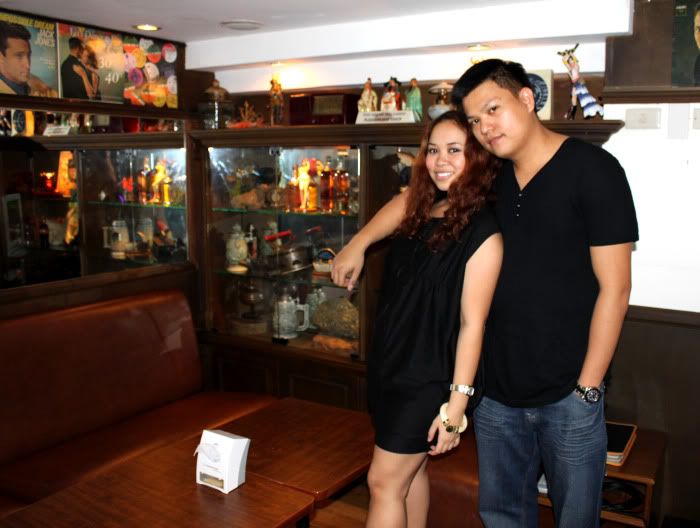 We didn't plan to match. It was purely coincidence. I bought him this Topman shirt a year ago. He doesn't like it that much because it is V-neck and looks blouse-y but he still wears it because it's from me.


Forget the main course, what I want to show you is my dessert!! Bought this at the Royce kiosk in Greenbelt and was resisting the urge to open it before dinner. Nyum nyum nyum I was munching this yummy chocolate potatochips in BF's car. Uuugghhh why did I post this pics now I'm suddenly craving for it in the middle of the night.


YOU MUST TRY THIS. Seriously.