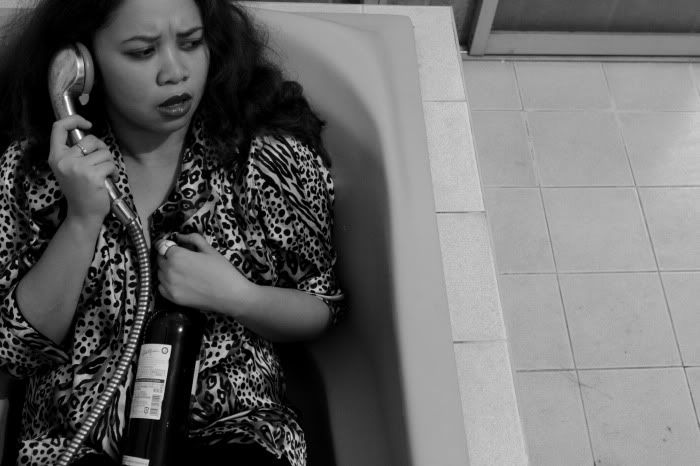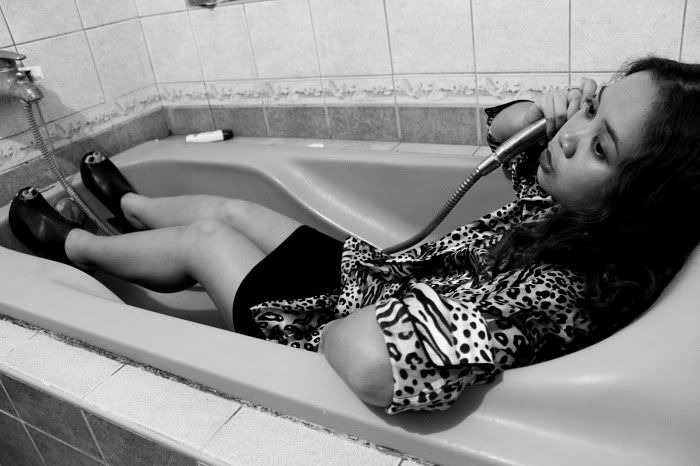 Pajama turned into Blazer: Surplus shop; Get Laud tube top worn as a skirt; SM department store booties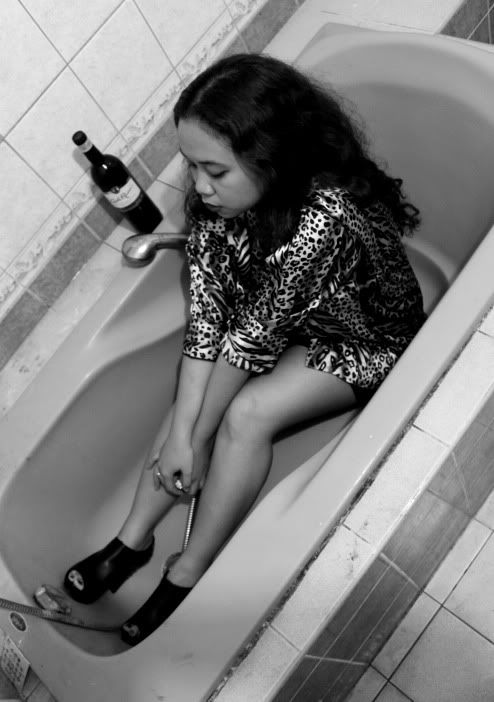 Would you believe me if I tell you that I got this blazer looking pajamas in Surplus shop? It came with a drawstring satin pajama bottom. It was priced at 399 pesos ($8) but when I was at the cash register there was still an additional markdown and I ended up paying 150 pesos ($3) for this animal print baby. I'm planning to put shoulder pads next time..=)
Ok, I'm not riding anything or anywhere. Last night sister and I tried to camwhore in the bathtub. The concept of our camwhoring session was "afterparty in the bathtub" we found an unopened bottle of red wine lying around the house and used it as props. Props because in reality there will be no drinking on my exact birthday and I drink like 5-6 times a YEAR, seriously! As I've told you in my older post, I'm duty today and yeah I spent/will be spending the whole day until tomorrow in the hospital.
*I was born at exactly 2:50 pm 25 years ago! This is the first time that I did not spend birthday with my family and boyfriend. Birthday was spent cleaning an old man's super super scraped knee because he got into a bicycle accident, wound dressing of an ingrown toenail, assisting in placing a cast on a patient's fractured arm (of course there had to be at least 1 motorcycle accident per duty) following up X-ray results, IV insertions, eating pizza for dinner, having fun with my co-interns. Not glamorous, but really fun and fascinating..
Tomorrow, after my duty, I will be picking out my present from the boy.. So excited! I hope it's still in the availabe in the store.
Bye for now, just squeezed in this post but I'm off to check the stations for new patients/admissions..=) So much work to do. Will check out your blogs as soon as I have time, ok?=)
ps. Globe Tattoo why do you have to be so incredibly

SLOOOOOOWWWWWWW???