Yesterday my sisters and I went out to eat.We were so happy that Pepper Lunch has opened its branch in Alabang yey! The food is super yummy as usual, I'm actually craving for some salmon teriyaki at this moment.. Was supposed to post a little food porn but all our eating pics turned into .NEF files and I can't upload it..grrrr..

After dinner, I usually roam around the mall and windowshop but I wasn't in the mood... Hmm maybe because I'm broke, that's why!=P So we just camhored instead, so much fun!
I've always been a fan of the basic tank+ skirt combo but this time I want to try something different. So I wore a textured top (I wore this in one of my older post) with a printed skirt and I liked how it turned out.. The skirt is actually a maxi dress I bought at Surplus shop for cheaps! (again) The cut was unflattering but I loved the print so I still bought it and had it reworked into a skirt..
Here are my sisters, our styles are different but kind of overlaps also.. Sister 2 is more of sporty and she likes printed clothes while Sister 1 is super fond of layering and is fond of artsy prints because she paints and does a lot of art. We borrow clothes from each other, mostly jackets/blazers and we share the love for accessories! The only thing they don't borrow from me are my shoes because my feet are too big!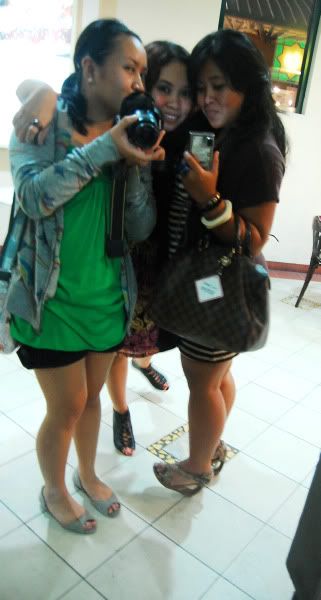 (Sister2, Me!, Sister1)
Sister 2 bought us these super cute keychains. All of us are Twilight freaks!
Yes, even my brother. Mine is also the same as the Princess keychain..=)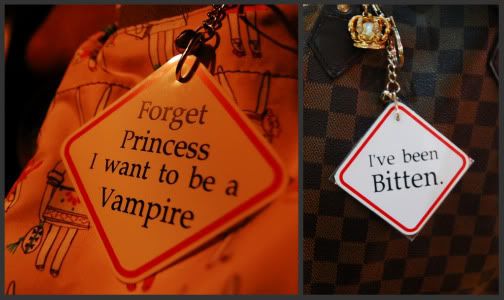 Bags: Fifi Lapin for Le Sportsac and Louis Vuitton
with Juicy couture charm