This morning, I was preparing stuff to bring back to my apartment. I usually bring my uniform, scrubsuits, my white blouses and my saturday civilian clothes, nothing extra.. But this week it's different, tonight I'm going to dinner with my college friends whom I haven't seen in 2 years.. SUPER EXCITED!!=) On Friday, we'll have dinner then we'll watch the gig of my medschool friends.. So yey I have reasons to dress-up this week!! I'm so happy! So I brought more clothes.. I mostly brought gray-black pieces, it's easier to bring clothes in the same shade if you're in a hurry..

(uhhmmm it's actually an internship we're not paid and we go on 36 hours duty-- not complaining though!)
What I bring back every single week..
Last year, when I was still a junior intern this was what I used to wear
but now that we're post graduate interns already we're no longer allowed to wear this shade anymore.

Now I use it as sleepwear..=)


For dinner later.. eekkk my shoes turned green haha
For friday gig and saturday exam.. and some extras =P
Just wanted to show you what I look like from Monday-Friday. I'm still amused with the fact that I maintained a blog even if I ACTUALLY wear this everyday except if I'm off to the mall or I'm meeting a friend or I go home or I play dress-up on a weekday.

And to the person who googled this:
philippines uniform dress code residents FEU or physician or skirt "dress code" -residential
(WOW that is the longest search term I've seen!)
I'm sorry you didn't find resident's/doctor's uniform in my blog so here I'm posting my medical intern's uniform.. (And also as per Rain's request a long time ago..=P) Resident's uniform are the same as mine except they wear long-sleeved blazers.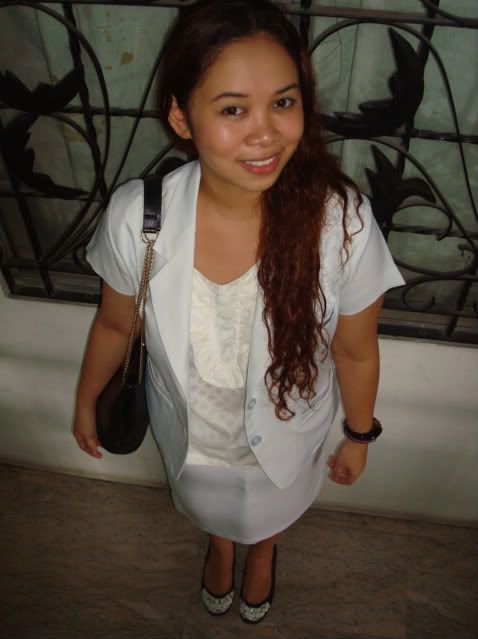 (White blouse: Topshop; Flats: Topshop; Bag: Vintage Nina Ricci)