Being a medical intern, we are allowed to wear civilian clothes during our weekend duty. In this Psychiatry rotation we are allowed to do so but they have a dress code:

*no sleeveless/tube tops/plunging necklines/see-thru
(if you wear sleeveless/tube you'd have to wear the uniform blazer over it)
*no miniskirts
*heels are a yes but no open-toed sandals
So I wore my ever reliable men's checkered polo.. This is probably one of the pieces I get most wear because it's no fuss and it's very comfy.. I avoid wearing clingy stuff because it's so hot in the hospital and there's so much work to do that I don't want to worry about my top.. I'm also wearing my super old (6 year old) pink suede pumps from Mango..

Moving on..
This was my outfit last Saturday the boy and I got our doggy's papers from the breeder and on the way home we went to Eastwood for an early dinner and I ate Red Mango frozen yogurt for dessert again!! I'm so obsessed with frozen yogurt I actually ate 4x in a week!


I'm wearing a dress/top I bought last weeek from the 495 sale rack in Zara.. I can't believe it's only 495 ($10)! I'm actually not a fan of orange because it reminds me so much of the prison uniform here in the Philippines. I probably own only 2 orange pieces in my closet but I still bought it because I can't resist the SUBTLE DRAPING at the hem.. Plus the upper portion has 2 buttons and when you unbutton it the dress looks like a vest..

So versality + draping = yey!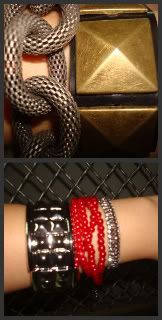 And here is a close up of the wrist candy I wore on Saturday (top) and Sunday (bottom):
Top: Both Folded and Hung

Bottom: L-R Tomato, Carolina's, Accesorize
I got the red pearl-like bracelet for only 10 pesos (less than $0.25 cents) =)
such a steal right?