Rummaged through my closet for something to wear for our dinner and found these 2 dresses I bought last year. Which do you like more?
I wanted to wear the white one because it looks fresh and summery
(although Manila weather is getting crazier everyday, there was a typhoon named "Emong" the other day)

but the white was kinda see thru and I can't find something to wear underneath so I went with black!!
The only good thing about the crazy Manila weather: I get to wear hooded dresses in the middle of the "supposed to be" summer!
The dress has a zipper in the middle, 2 big pockets at the side and a humongous hood!!
Dress: Refill, Cuff from Archeology at Powerplant, Shoes: Monica Fig
,
Sunglasses: F21
**Sorry for not smiling! I realized I look grumpy/angry in the pics!!=P**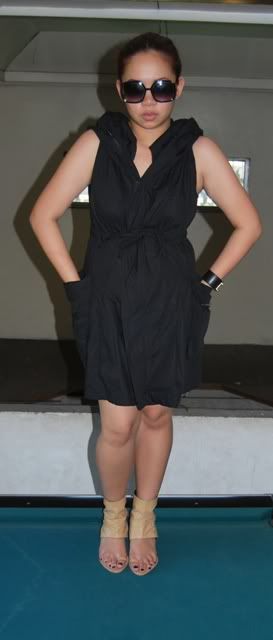 What's your pick? And why?